There's been a huge outcry all over the Internet about Net Neutrality.  A replica of America's last year's Net Neutrality event seems to be taking place in India as well. You should know and understand few things about this campaign and how you got into this Chatriotism ( Patriotism only on Chats) before you try to find any conclusion through this article:
1.   At this point of time, Flipkart is India's No. 6 most visited website, Amazon.in is at No.8 in Traffic rankings, while the top spots belong to Google and Yahoo. Amazon has managed to improve it's position in India significantly in the last 1 year. Amazon's traffic has quadrupled in last 1 year as per the Alexa traffic trend, while Flipkart, the homegrown eCommerce giant hasn't shown any improvement in it's traffic in the last 6 months.
2. Jeff Bezos had organized a road show last year in Bangalore, where he was trying to pull everyone's attention to a fat cheque of $2 billion, which many of us did not take seriously at that point of time, but now Amazon seems to be marching towards its goal of India's # 1 eCommerce rank.
3. Flipkart stuck a deal with Airtel to offer free data usage to those who use Flipkart mobile app on their smart phones, Facebook also had somewhat similar deal with Reliance. People didn't take any objection when Facebook stuck this deal with Reliance for zero data usage charges on Reliance network, Net Neutrality Chatriotism began only when Flipkart initiated a similar deal with Airtel. If you are still confused, then you should convert $2 billion into rupees and figure out how much money that is. Flipkart, now has pulled out of this deal with Airtel.
4.  Many people keep on asking me about why Facebook acquired Whatsapp for $19 billion, it seems there's absolutely no awareness amongst our people about "Data Analytics". The foreign social media giants and eCommerce giants are making full use of data analytics, while we are still trying to figure out how it could make any impact on us?
5.  Data Analytics and a few bloggers were effectively used to lighten this Chatriotism on Social Media and Digital Media. Panel discussions got sponsored on TV, tweets started flowing and all of a sudden there were so many Chatriots on Whatsapp and Facebook talking about Net Neutrality. Don't forget the $2 billion figure
6. Our Internet is so highly dominated by the offshore giants, that there's no scope left for any Indian social media company to enter into this competition. Bandwidth prices in India are 7 – 10 times higher than those in the US or Europe, which makes it extremely difficult for someone to host their data within India ( Read More at http://articles.economictimes.indiatimes.com/2013-03-31/news/38163288_1_isps-doug-madory-providers & https://blog.cloudflare.com/the-relative-cost-of-bandwidth-around-the-world/ )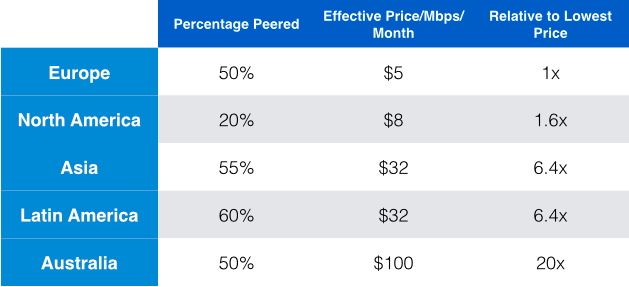 7. Indian ISPs are paying more than $4.5 billion per year for the data usage on the backbone of offshore ISPs. 90% of our data is hosted abroad due to lack of data privacy policies in India. All your data on FB, Twitter, Whatsapp, Google and almost every app you use is hosted abroad due to higher bandwidth pricing and higher taxation in India.  Cost of laying fiber in the seabed is 10 times higher than that of fiber laid on ground. ISPs try to recover this entire cost from the domestic users. If some Indian companies have taken an initiative to grow their business by giving free bandwidth to the users who are paying exorbitant price for bandwidth, then why should it be a cause of such concern to the Chatriots?
8. Flipkart has been the eCommerce champion for a long time, but the rapid growth of Amazon in India will push Flipkart to No 2 position soon. Reason for success of American companies in our social Media and eCommerce sectors has been the lack of data policies in India and poor taxation policies of India. Hardly any improvement has been seen in India's Data privacy policies over the last 10 years. American companies don't have to pay any tax on revenue earned from any country outside of America, while the Indian companies end-up paying Service Tax(14%), VAT(5-12.5%) & Income Tax(30%), which shoots up their costs and eventually pricing by minimum 30% compared to the American giants. How can Flipkart continue to compete with Amazon with such discrepancy? If you observe the traffic trend of Flipkart and Amazon.in on alexa.com , then you will come to know how fast Amazon has been growing in India.
9. Most of the print and digital media content is hosted on Amazon Cloud and our CIOs have written good reviews about Amazon. Domestic data center and cloud business of India stands at $600 million only right now, while that of Japan is 50 times more than us. Amazon alone earns more than $600 million per year from cloud hosting of Indian companies.
If Flipkart is offering domestic bandwidth for free, then few other companies can also take up similar initiatives and eventually our entire domestic bandwidth can become free for us, which will also promote hosting of data within India. If the offshore giants also decide to pay the ISPs to give away free bandwidth to the users, then let them do so, as the ISPs will charge them 10 times more for International bandwidth, which will help us save a chunk of the $4.5 billion that the ISPs have to pay for International bandwidth, don't forget that these offshore giants are making billions of dollars from our data, so if they pay back some money to our ISPs, then there's absolutely no problem. Cheaper option for the offshore giants will be to host their data within India, which will create jobs for more than a million Indians.
Your Net Neutrality campaign is a sponsored campaign by the offshore giants. If the offshore eCommerce giant becomes #1 in India, then the Indian companies would never manage to reclaim the #1 spot. We've already lost an opportunity in social media and cloud. Let us not allow an Indian eCommerce company to lose it's top spot. Our data in the hands of offshore giants will be a problem for us in the cyber era post 2020.
– The author, Piyush Somani  is MD and CEO, ESDS Software Solutions
 The views expressed in this article are the author's  personal opinion and do not represent the publication's view.
Related articles on Net Neutrality:
Net Neutrality in India : Pay Rs 250 per month to access WhatsApp or Facebook
The conspiracy against Net Neutrality
What India Inc thinks about Net Neutrality
Net Neutrality: Why we must preserve the openness of the Internet
Net Neutrality: Differential pricing will hit India's digital economy
Victory for Net Neutrality movement in India; Flipkart and Cleartrip pull out
Facebook founder Zuckerberg: Internet.org can co-exist with net neutrality regulations
After Net Neutrality backlash, Airtel's CEO seeks to clear misconceptions